the HT POSSE
---
AY2015-2016
---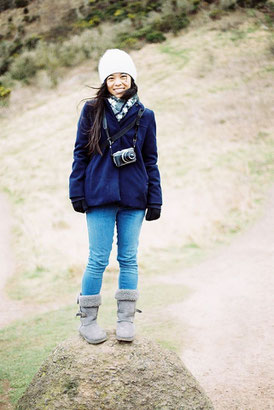 Charlene Teo
Education: Graduating in 2016 with B. Soc. Sci (Honours) in Geography with a minor in English Linguistics (NUS)
Thesis topic: Assessment of Heavy Metal Concentrations within the Nee Soon Swamp Forest
Interests: I am interested in physical geography as it studies the interactions between man and the environment. Thus, my thesis was on how anthropogenic sources of heavy metals led to elevated concentrations within the Nee Soon Swamp Forest (Singapore's last freshwater swamp forest!). If heavy metal concentrations are elevated to toxic levels, some species may be affected, potentially becoming extinct. While fieldwork can get tiring, looking back it was definitely an enjoyable process made better with good company! By company I am not referring to the monkeys who ate my food in the field. 
Hobbies: I recently picked up yoga and I love it! I also enjoy travelling and visiting natural landforms. I will try to identify the geographical processes that lead its formation. However, I fail in doing so most of the time and end up googling for answers.
'There is not enough time to do all the nothing we want to do' -Bill Watterson
My Haiku:
Land cover can cause
Heavy metal pollution.
Metals leach, it sucks!
---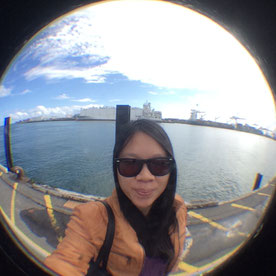 Ong Miao Xiang
Education: B. Soc. Sci (Honours) in Geography (2016)
Thesis Topic: A Sedimentary Record of Past Land Use, Heavy Metal Deposition and movement of sediments in the Nee Soon Swamp Forest, Singapore.
Interests: I have always been interested in environmental related problems as well as hydrology. I also really liked doing fieldwork which was one reason why I decided to do my thesis topic.  Hence I decided to combine my love of these interests in my HT. Heavy metal pollution is a serious environmental problem and it poses threat to the human health as well. I also studied the nature of sediment movement in the river which allowed me to go into the streams for fieldwork which I enjoyed. Going into the Nee Soon Swamp Forest allowed me to experience fieldwork like I never did before and I discovered a new side to Singapore's natural environment.
Hobbies: My favourite thing to do is to watching dramas and all sorts of variety shows from English to Korean, I watch it all. My  second most favorite thing to do is to bake. I try to bake as much as I can but I can get too lazy to do that sometimes.
"All that is gold does not glitter, Not all those who wander are lost; The old that is strong does not wither,Deep roots are not reached by the frost. From the ashes a fire shall be woken, A light from the shadows shall spring; Renewed shall be blade that was broken,
The crownless again shall be king"
-J.R.R.Tolkien
---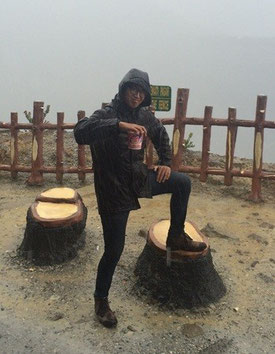 Muhd Herzad Bin Mohd Rahman
Education: Graduated in 2016 with B. Soc. (Hons.) in Geography
Thesis Topic: The Soil Carbon Storage of the Nee Soon Swamp Forest Catchment
Interests: I love living in Singapore. Call me sheltered but I believe the spaces on the island have been wonderful designed to be places for people to live and not just exist. We share these spaces with nature but have displaced its importance. I want to ensure in some way that these natural spaces have a greater positive influence on Singaporean lives and continue to thrive long into the future. That will be my contribution to a Singapore that has been a great place for me to live in so far.
Also, I love rocks. And volcanoes. And beautiful natural places. I hope to be able to scale the great peaks (or the not so great peaks) of the world one day.
Hobbies: Physical stuff mostly. I'm not a nut but I do enjoy cycling, working out, weird exercises and laughing. When I can I'll read fiction because I have traveled more in my head than I ever will in real life. Also, I like computer games. Games nowadays are not just for kids, the stories and worlds these games have rival any fictional universe that has ever been created (so don't think I'm a dork).
---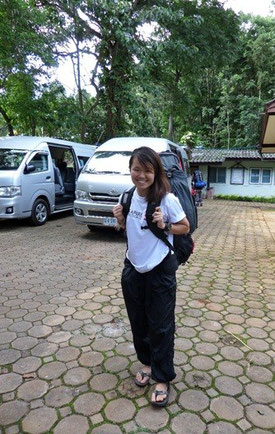 Loh Zhi Yang 
Education: Graduated in 2016 with B. Soc. Sci (Honours) in Geography
Thesis topic: Influence of localised sources and vertical profile of heavy metals in household dust in Singapore
 Interests: I like to look at issues that can affect human health. Most probably because of the values instilled in me since young in believing that with poor health, however much wealth would mean nothing. I'm interested in reading research articles that find new discoveries on how certain daily habits/lifestyles can be beneficial or detrimental to our bodies. Thus my thesis research is related to health as well.  With its small area and the prevalence of roads island-wide in Singapore, we are susceptible to heavy metal contamination from outdoor dusts, not only locally but also most likely from distant places as a result of long-range atmospheric transportation, and indoor dusts. Invisible to human eyes, these heavy metals are easily inhaled into the human body unknowingly. However, people tend to ignore issues that are not apparent to them which can bring greater health hazards to them. Hence, I like look into these causes that can brings negativity to human health Also, I love the nature. I like how it calms me down whenever I look at these natural landscapes or immerse myself in them. 
Hobbies: I always have had a hectic schedule and failed to sit down quietly to enjoy what I was doing, so my activities are a little limited. I appreciate doing activities for personal development as well as things that can make me a happier person. I play Floorball, do long-distance running, trekking and baking--but never at the same time.  And I love quiet moments where I can get lost in my thoughts.
---
AY2014-2015
---
HT Haiku
---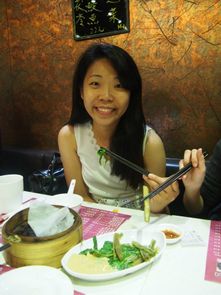 Lim Wan Lin (Moonbeam) 
Education: Graduated in 2015 with B. Soc. Sci (Honours) in Geography
Thesis topic: Concentrations, enrichment and bioaccessibility of heavy metals in household dust, Singapore.
Research interest: Heavy metals exist naturally in the environment. Soil and dust are two possible environmental media through which people are exposed to heavy metals. Dust is a more important route of metal exposure to humans because we breathe dust particles into our bodies. However, compared to the exposure of heavy metals in soil, research on exposure in dust is lacking. 
Hence, I am interested to study the concentrations of heavy metals present in household dust and the origin (natural or anthropogenic) of these heavy metals. Supplemented with the investigation of bioaccessibility, which is an indicator of the amount of potentially toxic metal ingested and/or inhaled soluble in the body, the risk of heavy metals to the population is assessed. Consequently, these allow for better spatial understanding of possible indoor urban pollution, potentially paving the way for pollution management.
Hobbies: I love taking long bus rides to see what is around me (call me queer but I like to observe how people live and interact with each other in our built-up environment), and sometimes get lost in my thoughts. I also enjoy taking long walks although I am more into running recently.
---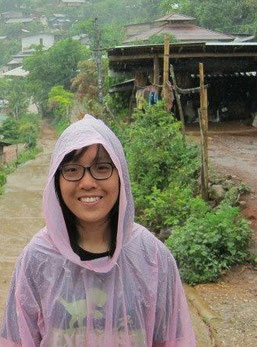 Lim Ai Jia Dawn (Morning Glow)
Education: Graduated in 2015 with B. Soc. Sci (Honours) in Geography

Thesis topic: Aquatic Macro-invertebrate as a bio-indicator of stream quality that is affected by rapid development in Mae Sa Catchment, Thailand.
Interests: I find aquatic macro-invertebrates especially interesting. They are such cute,tiny creatures and yet they play a crucial role in the ecosystems. I find it amazing how these creatures evolve from ugly in the larva stage to pretty in adult stage (ie. dragonfly nymphs to dragonfly). Aquatic macro-invertebrates refers to insects and are mostly nymphs/larvaes of terrestrial insects.
To me, they are not some disgusting and useless creatures! They are important bio-indicator of water quality. Also, aquatic macro-invertebrates is a cheaper way of assessing water quality as compared to chemical assessment. It saddens me to know that despite the importance played by aquatic macro-invertebrates, they are not widely studied in the tropics especially.
Hobbies: I enjoy swimming and pilates. I LOVE it when my muscles ache! I do not like to go shopping especially in TOWN. TOO CROWDED! I enjoy my neighbourhood malls in the off-peak hours. I prefer to chill in nature and enjoy God's creation:))
"Let the water teem with living creatures, and let birds fly above the earth across the expanse of the sky.So God created the great creatures of the sea and every living and moving thing with which the water teems..." Genesis 1:20-21
---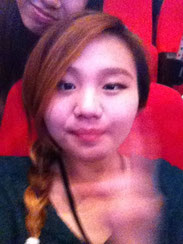 Esther Qi Hui Tan (Sunshine)
Education: Graduated in 2015 with B. Soc. Sci (Honours) in Geography
Thesis topic: Understanding villagers' exposure to Burkholderia psuedomallei in wetland system, Khon Kaen, Thailand.
Interests: Rewind time back to 2009 (when I was in JC, and all we do is talk nonsense), that was the first time I heard/ know of a particular bacteria in soil that caused someone to amputate his/her limbs (after in contact with soil of course) . I don't know how true the story is, and I didn't give much thought back then. Honestly, all i think about was rocks, and maybe a bit of volcanoes and the clouds and rivers and Singapore canals.
Then forward time a bit to 2 years ago, I got to know that a friend of mine was tested positive for Melioidosis, a disease caused by soil bacteria (after expose to soils). Well, people engages in all kinds of activities that involve soil and water, without even realizing their exposure to the tiny-weeny microorganisms that may affect them. This got me really interested and motivated to study this soil bacteria, Burkholderia pseudomallei, in the environment, and think about how they move across wetlands system and ultimately, how they affect people living/working in these environments. 
Hobbies: I love geography as a subject a lot, and hence decided that I want to be a geographer since 15. I am, and have always been, highly intrigued and excited  about anything related to rocks and lithology, in which I have no reason to explain my soft spot for it. Recently, I am pretty interested in diseases and health-related stuff. I love doing fieldwork and getting myself active. I think being active and doing work in the field is pretty therapeutic, like I can just be in my own bubble of thoughts. I love long night run and walk, enjoying the breeze, relaxing your mind and throwing away worries ;). Other than enjoying physical activities, I absolutely adore musicals, plays and museums! and oh yes! I love to read too! If you really know me well enough, I can be pretty nerdy despite my outer appearance (in which many people always think I look like someone who hates books/study/any stuff that has words on it) :p.  In life, I aspire to be someone that always remember my values and keep learning, doing things I love and developing myself to become a better and happy person. 
"I want to taste and glory in each day, and never be afraid to experience pain; and never shut myself up in a numb core of nonfeeling, or stop questioning and criticizing life and take the easy way out. To learn and think; to think and live; to live and learn: this always, with new insights, new understanding and new love." 
- Sylvia Plath, The Unabridged Journals of Sylvia Plath
---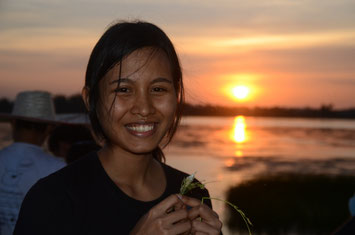 Nabila Mukhaidin (Starlight)
Education: Graduated in 2015 with B. Soc. Sci (Honours) in Geography

Thesis topic: Water- and soil-transmitted parasites in dairy and free-ranging cattle in northern Thailand
Interests: The world we live in is an amazing web of interconnectedness, be it the six degrees of separation or just trying to figure out how shit gets around (both literally and figuratively). I just love trying to work all that out by connecting the dots, although I often get a big headache.
People would think that collecting shit is gross and disgusting. However, I would 10/10 recommend people looking for "a new experience" to try it as it is really eye opening. From faecal sample collection where you can witness cows peeing like a tap, to viewing parasites 12.5 µm big (or should I say small), it will truly give you many takeaways. Also, you'd get to meet many cool people along the way-yes, other people who like to look at shit. 
Hobbies: sleeping with my eyes closed, having sweaty palms, sunsets, cycling, eating, thinking of what to eat next, writing random notes to people, cooking eggs in various ways.
---
AY 2013-2014
---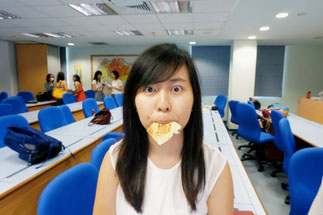 Candice Soh
Education: Graduated in 2014 B.Soc.Sci (Honours) in Geography with a minor in English Linguistics (NUS)
Honours Thesis: Rainfall partitioning in a montane bamboo-dominated stand, northern Thailand
Current work: Learning how to teach Geography and English at the National Institute of Education
Interests: Mainly spacing out and just watching the world go by. Someday, I would love to roll around carefree and to see more of the world and Singapore; simply to take in the beauty of nature and the cities. I generally enjoy quieter places so you probably won't spot me around crowded areas. And YES, I have a friends-declared food OCD issue - don't really appreciate food that looks too messy with sauce, gravy and all mixed together. Not weird, just different (: 
---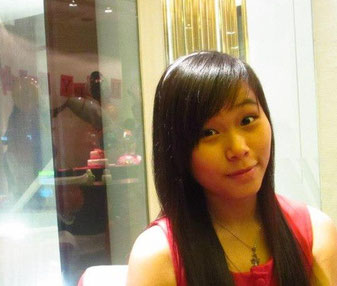 Chiam Gui Ping (Guips)
Education: Graduated in 2014 B.Soc.Sci (Honours) in Geography with a minor in GIS (NUS)
Honours Thesis: Geologic controls of drainage system and channel morphology in Doi Suthep Metamorphic Core Complex, Northern Thailand
Current work: Mapping~ 
Interests: Catching aquatic bugs in the river of Chiangmai and observing the different species of dragonfly nymphs. I love natural landscapes and the nature never fails to amaze me. Even a small unassuming piece of rock has its own untold story. Geography simply means a world to me. Someday, I would love to travel around the world with my loved ones. 
"Twenty years from now you will be more disappointed by the things you didn't do than by the ones you did do. So throw off the bowlines. Sail away from the safe harbor. Catch the trade winds in your sails. Explore. Dream. Discover." 
- Mark Twain
---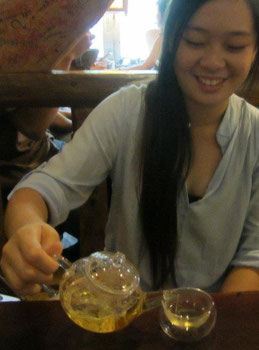 Tan Jin Hui Aricia
Education: Graduated in 2014 B.Soc.Sci (Honours) in Geography.
Honours Thesis: Limitations to using neodymium, strontium, and lead isotopes for sediment tracing in small catchments: a case study of Mae Sa Catchment, northern Thailand

Current work: Balloon Pilot
Interests: Too many to list
---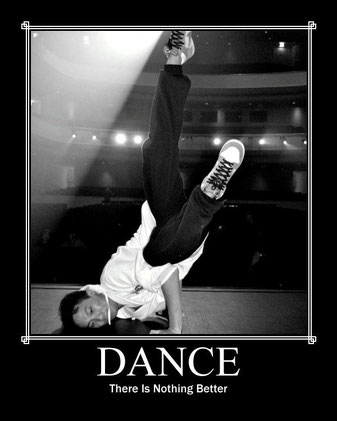 Lye Han Rui
Education: Graduated in 2014 with B. Soc. Sci (Honours) in Geography
Honours Thesis: The F Word: Fluoride Contamination of Groundwater in Chiang Mai, northern Thailand
Current Work: Mapping
Interests: Dance! I think I spend more time dancing than anything else, and there is nothing I enjoy more. Apart from dance, I am an avid gamer. I love the sound of nature and places with lesser people, and the slow pace of the country life. I also love to read (alot) and an insatiable wanderlust for new places and old. Favourite haunts include Thailand and Malaysia for the moment, but my lifelong dream is to visit the Grand Canyon the Niagara Falls (and not to mention take dance classes in L.A....)
---
Rachel Koh (RKY3)
Education: Graduated in 2014 B.Soc.Sci (Honours) in Geography with a minor in Geoscience (NUS)
Honours Thesis: A sedimentary record of land use change and heavy metal deposition in Nee Soon Swamp Forest, Singapore
Current work: Formally,being a teaching assistant in NUS and informally, doing fieldwork in Nee Soon.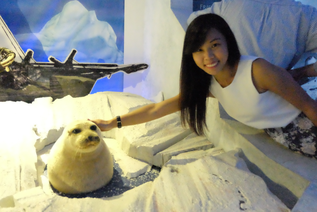 Interests: Animals. I love working with animals. I have worked with horses at the Riding for the Disabled Association, given exhibit commentaries at the Underwater World and assisted at an animal clinic. My dream is to own a horse as a pet. 
Natural landscapes. Being a geographer and learning about Earth's processes has not stopped me from wondering how it is even possible for Earth to birth such works of art everytime I encounter an enchanting landscape. Fieldwork has thought me to appreciate parts of the landscape we often take for granted; I never gave soil much thought until I did my HT.
Being active. I enjoy long runs and pilates classes. I like to imagine that I'm a horse galloping across a vast plain or an acrobat performing a stunt.
Shopping. My guilty pleasure is internet window shopping.
---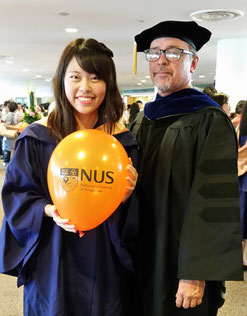 Anna Yeo (AY)
Education: Graduated in 2014 with B. Soc. Sci (Honours) in Geography
Honours Thesis: Biochemistry of Aluminium in the Acidified Streams of Bukit Timah Nature Reserve
Current Work: Under training as a student-teacher in NIE
Interests: I love exploring nature, cities and countries! People once nicknamed me Anna-the-Explorer. On random days, I stroll at the Hort Park, explore the Merlion Hotel (if you know of its past existence), look upon the nightscapes of Singapore - Oh-So-Pretty it is! Marvel at the majestic Marina Bay Sands, walk to and fro along the Sentosa boardwalk, and Im gonna explore the Singapore islands very soon! Im super proud of the Singapore Cityscape!
---
AY 2012-2013
---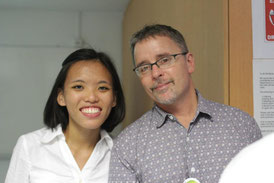 Ang Zuo Jin (aka Georgie; aka Zuo Zuo)
Education: Graduated in 2012 with B.Soc.Sci (Honours) in Geography (NUS)
Published:
Slope Failures and Erosion on the Ao Jak Beach Road: Toward Reducing Tsunami Vulnerability on Remote Coastlines with Alan D. Ziegler, Mandy Song etc. (get @ Pub Hub)
Sediment source identification in the Mae Sa catchment, northern Thailand: uncertainties and management considerations with Alan D. Ziegler, Paul Olin, Shawn B Benner, Spencer H. Wood, Ross A Sutherland (to be submitted to Geomorphology)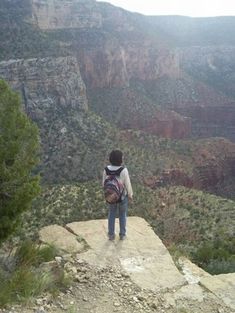 Interests: I love nature. Everytime I look over a beautiful landscape, I feel humbled by how small humans are in this universe. Because of that, I enjoy travelling and exploring nature places and be as far away from cities as possible. A part of me really miss the days I spent trampling about in the Mae Sa river collecting samples. Admiring nature simply isn't enough; the experience of interacting with her is priceless! My childhood dream is to stay in a natural-hazard prone area (preferably volcanoes) and predict natural hazards. But dreams may remain dreams.....
Hobbies: I play Touch Football, read fiction, listen to songs from Backstreet Boys (boy band) and enjoy Criminal Minds (American drama series).
Working in: Law enforcement sector in Singapore.
"Nature has been for me, for as long as I remember, a source of solace, inspiration, adventure, and delight; a home, a teacher, a companion."  -Lorraine Anderson

---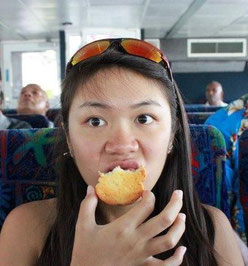 Song Sihui Mandy
B.Soc.Sci (Hons) in Geography with minor in GIS (NUS 2012)
Honours Thesis: Elephants and Environmental Degradation: A Study in Northern Thailand (2012)
Published: Slope Failures and Erosion on the Ao Jak Beach Road: Toward Reducing Tsunami Vulnerability on Remote Coastlines with Alan D. Ziegler, Mandy Song etc. (get @ Pub Hub)
Current work: Mapping!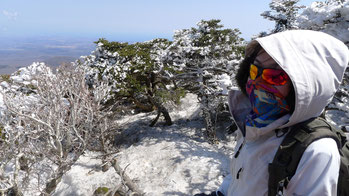 Interests: Geeky interests are mostly in mapping, GIS and some bits of remote sensing.
Travelling and seeing the world is an addiction - it opens my mind up and makes me a much happier and hopeful person. Some of my happiest days are spent trampling around in the rivers and mountains of Sikkim, Chiang Mai (missing fieldwork so much!!), Iceland, Fiji and Jeju.
I also like long walks or treks, taking in fresh air and paying attention to the pretty flowers by the roadside which often goes unnoticed. The kitchen is my other playground where I pretend that I'm a not-so-bad cook and baker. My dream is to run a family cafe someday...
---
Ng Xiao Qian Serene
B.Soc.Sci (Hons) in Geography with minor in GIS (NUS 2012)
Honours Thesis: Flooding effects on location of Wat Wiang Khum Kam, Chiang Mai, Thailand
Awards: Won FASS Outstanding Undergraduate Researcher (OUR) Prize for 2011/2012
Current: MSS program at NUS (see more)
---
AY2011-2012
---
---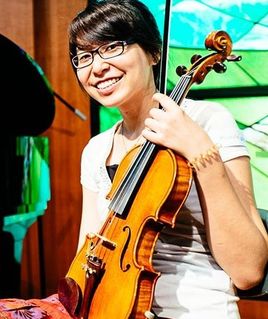 Quak Song Yun Michelle

B.Soc.Sci (Hons) in Geography with minor in GIS (NUS 2012)
Honours Thesis: Honors Thesis: Above-ground biomass of a Rhizophora-dominated mangrove ecosystem, Ranong, Thailand.
Current: graduated from NUS MSS program at NUS (see more)
---
Yuen Jiaqi (Speedy)
Graduated in 2011 BA (Honours) in Geography (NUS)
Current work: Dr. Z's slave in the MSc program.
Honours Thesis: Unfriendly roads: the effect of land use on heavy metal accumulation in road-deposited sediments in Singapore
Interest: Pumping Iron
See more here.
---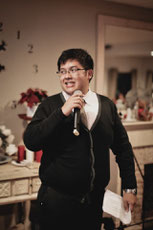 Norman Shah
Graduated in 2011 BA (Honours) in Geography (NUS)
Current work: Streetscape Manager - National Parks Board Job Description: Implementing and maintaining urban roadside greenery
Honours Thesis: Impacts of shrimp farming in Southern Thailand, A study in water quality management (2011).
Interest: Environmental issues have always piqued my interest and geography was the perfect field to get into to study and understand these issues and place it in a broader perspective.
My current work also got me involved in arboriculture which is something new to me and is something that I'm very keen to learn more about. The field is becoming increasingly important in Singapore which strives to be a city in a garden where managing greenery in and increasingly urbanised landscape is becoming ever more challenging.
I'm also an amateur aeromodeller. I recently picked the hobby up again since my days in the youth aeromodeller club. Come see me crash my planes at Tuas.
I also love long walks on the beach and strawberries....... no seriously
---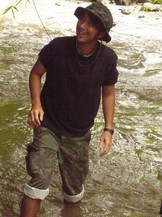 Angus Sham
Education: Graduated in 2010 with BA (Honours) in Geography (NUS)
Current work: Teaching Geography in Kuo Chuan Presbyterian Secondary School
Published: The influence of Land-cover changes on saturated hydraulic conductivity: Implications for runoff generation and flow processes with Alan D. Ziegler, Alvin Yeo and Camy Boey.  
Comparing soil profile: Native tree species against Pinus kesiya (reforested area) with Charles Tan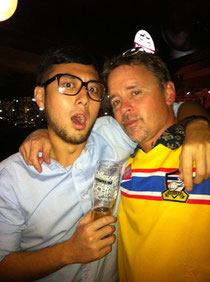 Interests: 
My heart lies where the streets have no name (Says Bono). I love water and I love it even more when it meets the highlands. The first 8 years of my life was spent in Pai Tou village, in rural HongKong. The mountain streams were my childhood playground and it has always been my burning interest to find out 'Where does the water go to?' 'Where did it come from?' I can't find the answers anymore because that place has since been urbanised. But I have found something better, Chiangmai!
I am also a music junkie and play at some night spots and bars in Singapore with Amanda Tee, a local singer songwriter. Check out our weekly schedules at www.amandatee.comand come by and chill and drink with us! 
---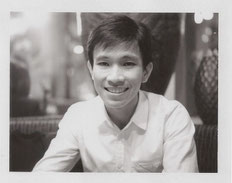 Alvin Yeo
Graduated in 2010 BA (Honours) in Geography (NUS)
Current work: 
Honours Thesis: Variation in soil physical characteristics in three forest soils in Mae Sa Catchment, Thailand  (2010).
Interest: 
---